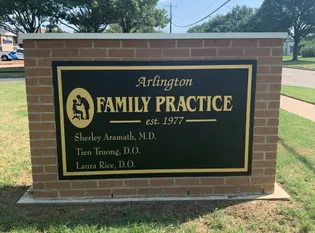 Arlington Family Practice, PA was established in 1977 by Dean Peyton, DO. Our practice now has three doctors that continue to carry out his dream of providing quality medical care in a fun and loving environment. We are proud to serve patients of all ages from Arlington, TX and surrounding communities with a wide range of medical and health services.
We believe you receive the best care when you consistently see one doctor who is able to gain a detailed understanding of you and your family's medical needs. For new patients, we recommend Dr. Aramath or Dr. Truong for your primary physician. Our staff can also work with you to help you choose a doctor that fits you best.

Arlington Family Practice received the 2012-13 Super Service Award from Angie's List and was named to the Best of Arlington Texas in 2016.
---
Dr. Sherley Aramath, M.D
Primary Care Physician Arlington TX
Arlington Family Practice
Dr. Aramath graduated from the GRMEP Family Medicine Residency Program at Michigan State University. Board certified in family practice, she has experience in a complete range of medicine and health care. In her free time, she enjoys being outdoors, music and writing. Dr. Aramath is married with two daughters and describes herself as detail-oriented, attentive and comforting.
Dr. Aramath is currently accepting new patients


Dr. Tien Truong, D.O.
Primary Care Physician Arlington TX
Arlington Family Practice
Dr. Truong received her undergraduate degree from the University of Health Sciences College in Kansas City, MO and completed her residency at UT Southwestern Medical School in Dallas. Board certified in family practice, she practices a full range of medicine and has a special interest in preventative care and women's and children's health. Dr. Truong is married with two children and likes to cook, camp and travel in her free time. She speaks fluent Vietnamese and was a Top Reviewed Doctor in 2016.
Dr. Truong is currently accepting new patients